A New Journey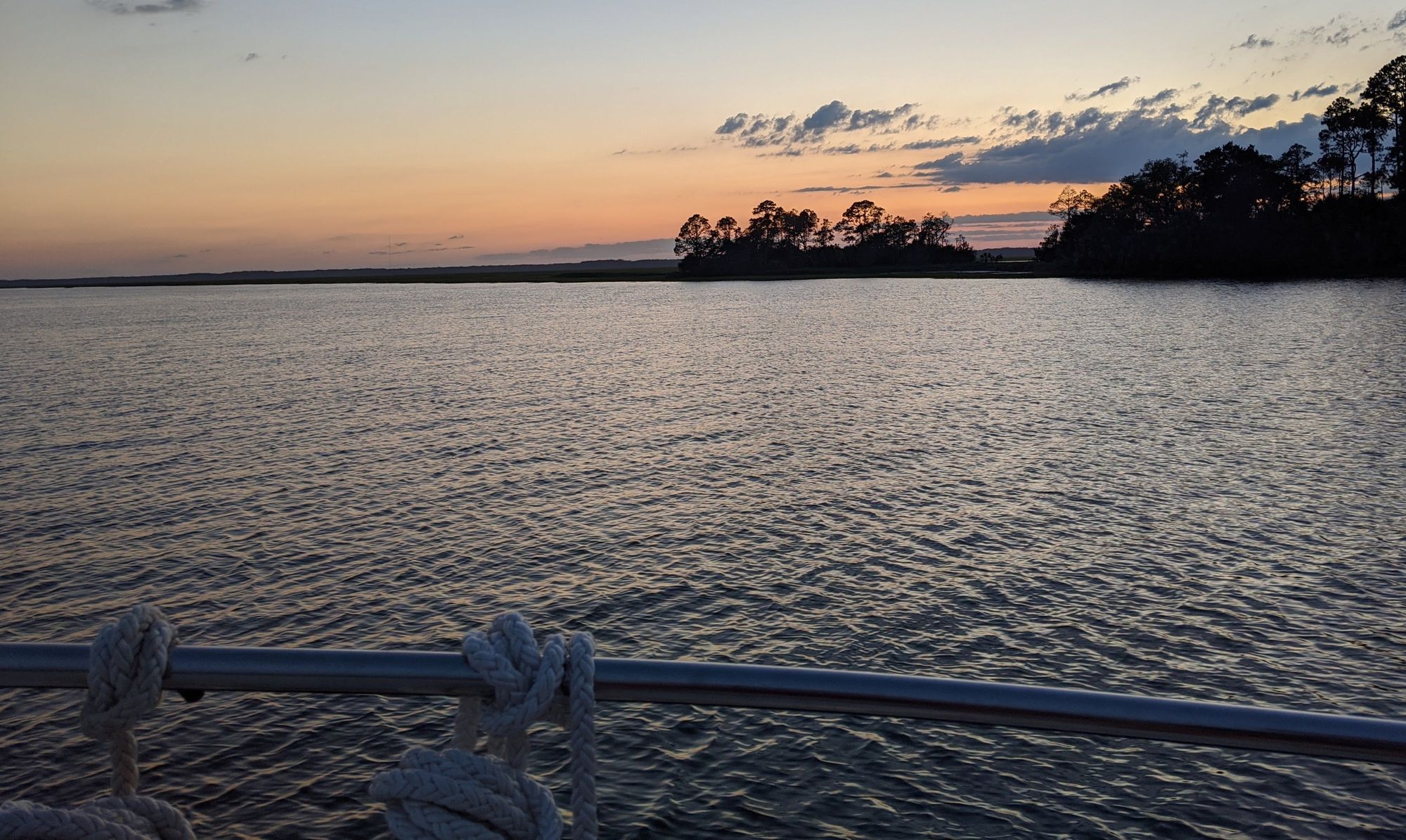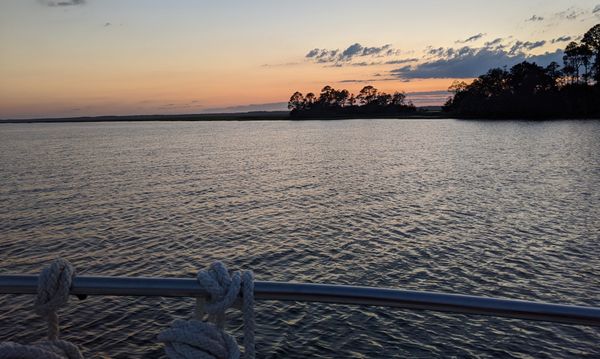 Clunk, clunk, clunk, clunk.  The anchor chain passed over the bow of our trawler in the secluded cove as the sun slowly dipped toward the horizon.  We backed down to securely set the anchor and hold the boat in the gentle breeze for the night.  The occasional chirp of a passing bird and the slap of water by a jumping fish broke through the silence of an otherwise quiet dusk.
We enjoyed a beverage while watching yet another beautiful sunset.  Our adventure was coming to an end.  We reflected on our 3-year, 10,000-mile journey aboard our boat Positive Latitude and recalled our many adventures - both good and bad.  The sunsets inspired us and the tropical storms and thunderstorms threatened and tested us.  The adventure was a journey of a lifetime.
Everything was new and challenging when we started.  The boat, the places we explored, and our knowledge and skills were untested and full of unknowns to us.  But as time passed, we found ourselves feeling more comfortable.  Experience replaced uncertainty.  Knowledge replaced mystery.  The unknown became known.  However, our journey was coming to an end and although our future was murky, we knew it was time to chart a new course.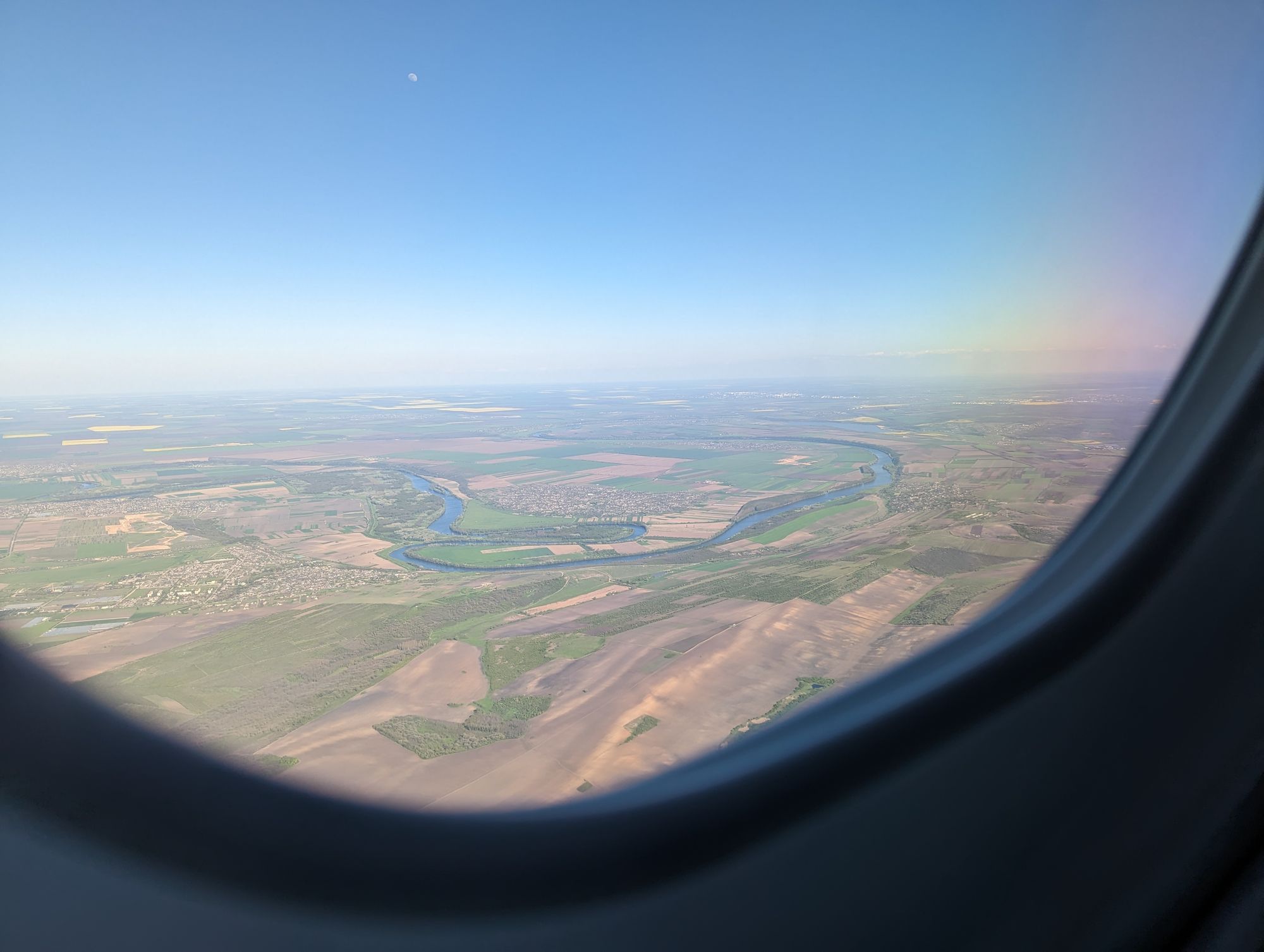 Six Months Later…
The airplane banked a bit to the right as I looked out the window to the left.  This flight wasn't going to be a straight line between two European cities.  My fourth flight of the day hugged the border taking the long way around instead of flying the obvious direct route.  Staring out the window into the closed airspace of the Ukrainian countryside hardly revealed the pain and division below.  But I didn't have to wait too long to meet it in person.
Despite its designation as the capital city, the airport in Chişinău, Moldova is relatively small.  The kind of airport where the stairs are rolled up to the plane and a couple of crowded busses take you a couple hundred yards to the terminal.  But a bustling airport is hardly expected in the poorest European country with the fewest number of visitors.  Finding tourist attractions is a challenge here, but not really on my agenda for this trip.
The scene in front of the airport looked like any other.  My traveling partner Dr. Chuck and I didn't need to walk too far to find a taxi driver willing to negotiate terms with language-challenged visitors.  We showed our destination address to avoid the discomfort of verbally butchering the street name full of strange characters.  After a bit of pointing directions in the air with little understanding, we resorted to revealing the universal landmark that crosses all language and cultural barriers.  Turn right at the Mcdonald's.  Ah, our driver nodded with a new understanding and we quickly agreed upon a fare to get us to our small, family-run bnb in downtown Chişinău.
After a recommendation from our host, we walked a few blocks to find dinner.  Other than enjoying our first Moldovan meal, we really just wanted to stay awake long enough for the sun to disappear.  We've been awake way too many hours and getting into a normal routine that matched our new timezone was a challenge we looked forward to getting behind us.
The small restaurant was bustling with people sitting inside and outside on the patio.  More importantly, the menu and our waitress promised vegan options, which was important to Dr. Chuck.  Fortunately, my traveling companion is not militant about his eating choices (and as a healthy seventy+-year-old, he's obviously made good ones), but we did well at our host's recommendation and didn't have to resort to the McDonald's down the street.  
With our order in, we re-lived the separate routes that took us to Moldova.  The various flights were full and delayed.  We each started our trips parked on the tarmac for hours not knowing if we'd make our next flight.  My luggage is still somewhere in New York City and I may spend my first-day shopping at Malldova (yes, it's a mall in Moldova) replenishing what I might need and thought I would have.  And we were both tired.
It only took a small-talk question of our young waitress to give us a real dose of reality.  She answered "Five months" and we watched as our confident, professional, friendly server fight back a wave of tears.  Her voice cracked as she explained her husband and family remained in Odesa, Ukraine, one of the first targets of the Russians last year.  She came to Moldova 5 months ago to earn money for her family as a waitress.  The separation was difficult and the pain was written all over her face as she briefly shared with us her circumstance.
Crowded, delayed flights are uncomfortable.  Losing luggage is uncomfortable.  Lack of sleep is uncomfortable.  But is it really?  We'll undoubtedly meet more people here whose stories will re-calibrate our comfort meter.  But where there is discomfort and challenge, there will be hope.  Follow along this new journey by subscribing to receive new stories.